ANCHORING SYSTEMS
PROUDLY SERVING OVERLAND PARK, LEAWOOD, KANSAS CITY, AND SURROUNDING AREAS
Do your home's foundation walls appear to be moving inward?
 Have you noticed cracks, leaks, walls leaning inward or buckling? If so, you need JLB Foundation Repair & Basement Waterproofing's help.
JLB offers Foundation Anchoring Systems built to reinforce and protect your foundation walls from expansive clay soils that are found in our area. Our anchor system is specifically designed to resist the expansive clay soils found in the Leawood, Overland Park, and Kansas City areas. If your foundation goes untreated, this could eventually become a catastrophic failure, putting your home in danger. If left unfixed the problem becomes more costly to fix later as the problem worsens. Now is the time to call us for a free evaluation & estimate.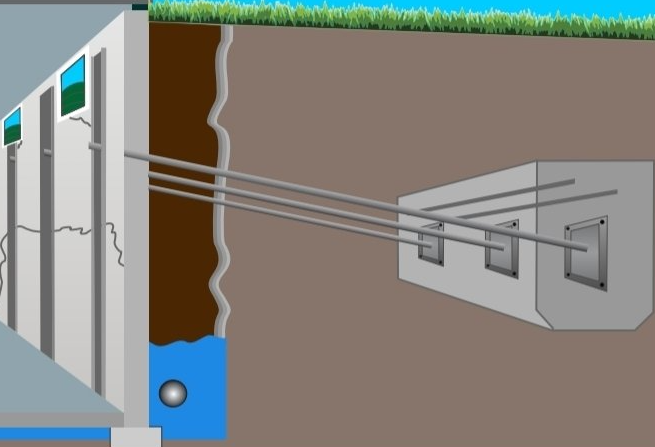 Causes of Lateral/Inward Movement On a Foundation Wall
Soil pressure – when the soil is saturated with water, it will expand and push on the foundation wall

Gutters not extended properly

Poor grade around the home

Drain tile installed previously can clog

Year Home was built, and codes applied at that time

Heavy rains causing Hydrostatic Pressure

And Many more
When it comes to preventing inward movement on your foundation walls, JLB employs either a Foundation Anchoring Solution or Wall Bracing Solution. Our Anchoring System is backed by a transferable warranty.
Wall Anchoring starts with installing a steel C – channel on the inside of the Wall, attached to a steel rod that runs out to stable soil. The steel rod is then embedded in a continuous trench of concrete as the wall anchor point. This provides tremendous weight and surface area for the Anchor to act as a counterbalance to support the leaning or tipping foundation wall.
This anchoring system is by far the strongest system on the market and is a must in our area due to weather and expansive clay-based soils. 
It is important to note that your foundation is supposed to support your house. The home isn't supposed to support your foundation walls.