WATERPROOFING SYSTEMS
PROUDLY SERVING LEAWOOD, OVERLAND PARK, KANSAS CITY, AND SURROUNDING AREAS
Fix Your Wet Basement Today
There are only a few things worse than a wet basement. What appears to be just a tiny trickle or small puddle are the warning signs of a much bigger problem. Moisture in your basement can lead to an array of costly and time-consuming repairs. From structural damage to toxic mold, there is no question water in your basement is a serious problem. That's why you should turn to the Basement Waterproofing experts at JLB Foundation Repair & Basement Waterproofing.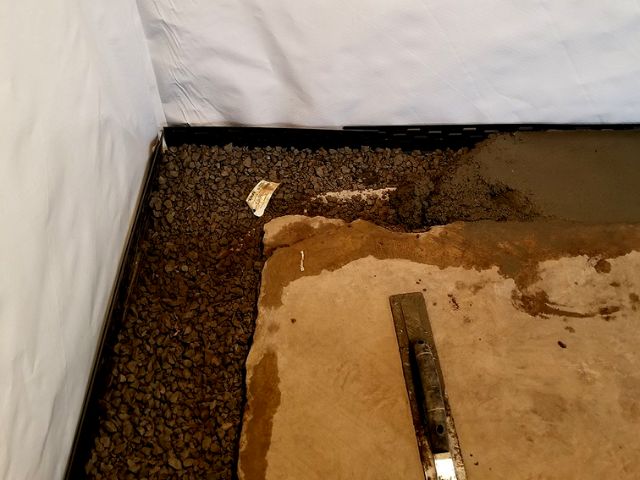 JLB DEEP-DRAIN

– WATERPROOFING SYSTEM 
JLB has many Waterproofing solutions but the one implemented most is the "JLB deep-drain waterproofing system". This system is the ideal solution for collecting large amounts of water under the floor and diverting the water to the sump pump (this system works in conjunction with a sump pump). The system penetrates and collects water below the bottom of the floor, stopping cracks from leaking and keeping your basement dry. During the inspection, JLB could identify issues requiring additional solutions that work hand in hand with the Deep-Drain Waterproofing System, including: 
Vapor Barriers
In many instances, the JLB Foundation Deep Drain System ensures the homeowner has a dry basement. JLB Foundation Vapor Wall is perfect when basement walls have moisture coming through the walls, cracks, and or pipe penetration are leaking. JLB Foundation Vapor Wall will also protect the homeowner against future cracks that may occur from leaking into the basement floor. As basement walls get older the issues become bigger. JLB Foundation Vapor Wall is a product that prevents the homeowner from revisiting issues over and over.
Drain Wells
Prevent window wells from filling up with water and flooding your basement by installing a drain port and solid cover tied into the Deep-Drain Waterproofing System.
Down Spout Extenders (DSE)
Downspout extenders connect to your gutter system and carry all the water from your roof out away from the foundation.