JLB FOUNDATION REPAIR
& BASEMENT WATERPROOFING
Your Trusted Experts in Gladstone, Kearney, and Leawood – Serving Kansas City & Surrounding Areas.
JLB Foundation Repair & Basement Waterproofing is a greater Kansas City trusted name for all foundation and waterproofing repairs, including optimizing exterior drainage.
KC based foundation repair & dry basement company serving Leawood, Overland Park, & Kansas City – JLB Foundation Repair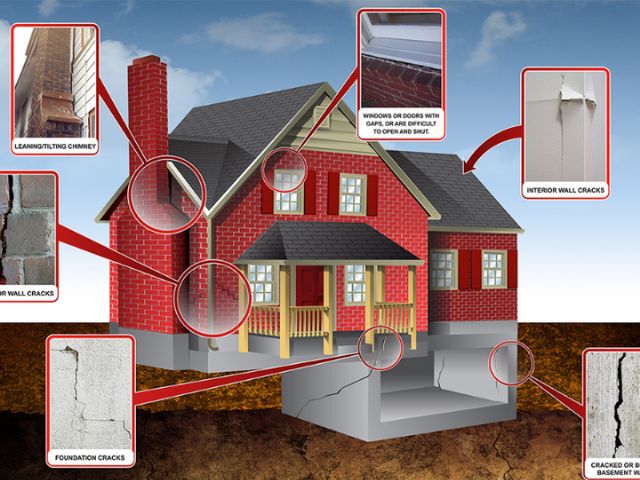 JLB Foundation Repair & Basement Waterproofing is a locally owned and operated midsized company ran by Josh Bultmann. We specialize in structural repairs, waterproofing and exterior drainage solutions. Crawl spaces are also a challenge KC homeowners face and is one area of our expertise. We also offer Mud Jacking to level driveways, garage floors and sidewalks. Other solutions include removing and replacing concrete. You can count on our engineering certificate holding team for reliable solutions and fair pricing.
Greater Kansas City soils require local proven solutions. Severe weather conditions, including periods of drought followed by extreme saturation are the root cause of nearly all water and structural problems. With this knowledge and experience you can count on our team to return your home to it's full value while you enjoy peace of mind. So when your ready you can count on JLB. That's why JLB is one of Kansas Cities' most trusted foundation repair companies.
Service and honest practices is where all good things start.
ANCHORING/ FOUNDATION REPAIR
Many Home Owners have faced foundation issues. JLB Foundation & Basement Waterproofing is here to help by giving homeowners a permanent solution for their foundation needs. JLB Foundation Repair & Basement Waterproofing provides a No Hassle Wall Bracing/Anchor System to homeowners that will last.
WATERPROOFING
Our experienced professionals inspect your basement for water related problems and provide a well explained, cost effective solution. All of our work is warrantied to stop basements from leaking. We provide free estimates, without the high pressure sales tactics. JLB Foundation Repair & Basement Waterproofing has fixed many homes in the Kansas City area with a reputation that speaks for itself.
HOME DRAINAGE SOLUTIONS
A secret to a healthy home is to direct the water away from the foundation. This will preserve the life of the foundation, as well as, sidewalks, patios, and driveways. It will also prevent future water problems in your basement.
PUSH PIERS/ FOUNDATION REPAIR
Here at JLB Foundation Repair & Basement Waterproofing, we take pride in our work and treat your home as if it were our own. Our client's notice this by the workmanship that we provide, but it all starts with the materials that we use. That is why we have chosen to become a Magnum Certified installer.
MUD JACKING
Mud Jacking is a solution for your unlevel sidewalk, patio, driveway, garage floor, and basement floors. Mud Jacking is a way to level your concrete without the expense of replacing it. In most cases, there is a reason that you have uneven concrete. We not only fix your problem, but in most cases we can also fix what is causing the problem for a more permanent solution.
CRAWLSPACE ENCAPSULATION
Spiders will be the least of your worries if you allow water to collect in your crawlspace. That damp area is not only an excellent place for mold or mildew to grow, but it can also damage the foundation and structure of your home. That's why JLB offers a crawl space encapsulation system called JLB Foundation Vapor Wall.
WARNING SIGNS

YOU MAY NEED OUR SERVICES
Is your home giving you signals that it is time to call JLB Foundation & Basement Waterproofing? Here are warning signs that your home or business property needs expert help.
Cracks in your home's foundation, walls, floors, or chimney
The expert team members working for JLB Foundation Repair & Basement Waterproofing will determine if the cracks you see are minor cosmetic issues or symptoms of a deeper-rooted problem.
Doors or windows that stick
Does it suddenly seem as if your home's windows and doors aren't functioning as well as they used to? This may be a sign that your foundation has shifted.
Sinking
Does one part of your home seem to be sinking? JLB Foundation & Basement Waterproofing has helped thousands of homeowners find solutions to this issue.
Musty smell in your basement
Even if you have never seen water standing in your basement, that doesn't mean that water is not finding its way inside your home. One indicator of a problem is if your basement has a musty odor. Of course, mold or mildew in your basement is a bad sign as well.
Bowing walls
Bowing or bulging walls are a clear indicator that something is wrong with your foundation. Call JLB immediately before the problem becomes worse.
The JLB Foundation Repair & Basement Waterproofing

Difference
1. Locally Owned & Operated
If you're not from Missouri or Kansas, you likely don't get it. From the frequently fluctuating temperatures to the hot, dry droughts to the non-stop rains. Missouri & Kansas soil goes through consistent changes throughout the year, which can be tough on your home's foundation. That's why hiring a company that understands Missouri & Kansas is your best choice.
2. Experienced Estimators
To become a JLB Foundation Repair estimator, you've got to have ground-level experience first. Most of our estimators either have multiple years of experience in the foundation industry or started at the bottom and worked up. This is important so you get an accurate quote and proper diagnosis.
3. Proven Solutions
Foundation Repair is not one-size-fits-all. Solutions that work in Texas are not always going to work for Missouri or Kansas homes due to the different soil types. That's why JLB only deploys trusted solutions proven to work in Kansas and Missouri's rich soil.
4. Experienced Crews
JLB's crews bring over 75+ years of combined foundation repair experience to the table. Likely, there is not a single foundation-related issue one of our units can't solve or has not seen.
5. Affordable
Since we are a mid-sized company serving a specific area of Kansas and Missouri, we do not carry the sizeable overhead name brand companies have. Often this allows us to stay hyper-competitive and offer lower costs for the same if not better solutions.
While all of these problems may seem alarming, JLB Foundation Repair & Basement Waterproofing is your one-stop-shop for fixing existing issues and preventing more damage from occurring.
Foundation problems can threaten the integrity of your home. Water seeping into your house may also have adverse effects on the health of your loved ones. JLB Foundation Repair and Basement Waterproofing can fix those issues, so you never have to worry about the structural integrity of your home again.
 If a rainy Kansas City forecast makes you anxious because you know your basement will soon fill with water, Call JLB Today!